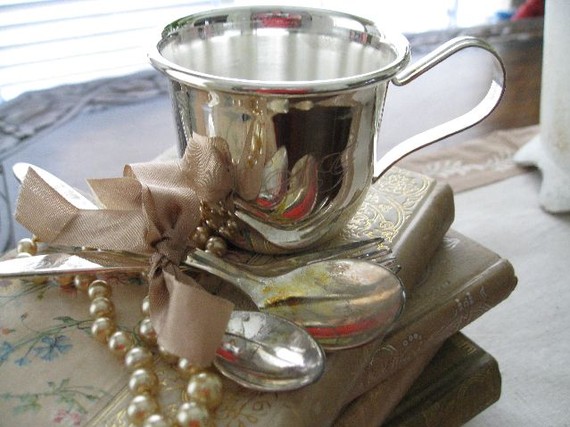 All of us Indians are very familiar with silverware, most of us have it at home but never use it. Even I was gifted a full set of silverware which included plates, glasses, spoons and pooja sets for my wedding but I never used them, as I thought it's was too much of a luxury, remember the famous "born with the silver spoon" phrase.
When my daughter was born we again got a lot of gifts which included silverware. This time I wanted to use them as I'm convinced that my little one is the princess of my house. So I picked a really cute bowl and spoon to feed her cereals, the spoon had nice rounded edges so it did not hurt her. Here are some excellent benefits of using silver utensils for your kids:
It is the best antibiotic known to mankind (Shocked!! Im shocked too).
It heals wounds with its antimicrobial properties, some countries make bandages out of silver.
It destroys all germs, virus and bacteria. Olden days silver coins were added to a glass of unpasteurized milk and milk was fresh for days.
Builds immunity in children.
Used as filters in water purifiers (off course by the wealthy).
Silver was thrown into holy water near temples to purify the river during ancient times.
Silver spoons was used to detect poison, particularly in the Korean Joseon Dynasty: due to its reactivity, silver tarnishes on contact with sulfur, thus detecting the presence of arsenic sulfides and warning of arsenic poisoning.- Source Wikipedia
I think all of us mommies should give this a serious thought and use silverware once a day to feed our kids or give them water to drink in silver glasses. Silver is not as expensive as gold, I'm sure you all can afford some silverware if you don't have it at home.
Silverware is available in jeweler shops, I even saw some at Mom and Me stores. Hope you liked the post.