By Geetha,
"Ever been in a totally strange place completely lost? That's how my motherhood journey began.
The day I saw the "two blue lines" for a second time in my life, I was nervously staring at it; literally for ten minutes. Did I forget all those painful sleepless nights? Did I forget the days I cringed for not having a "me myself" time at all? Did I just dare to walk the lonely path of motherhood again? The dreaded morning sickness, the relentless heart burn, the loose bladder, the awkward walks, the sly glances, the ever tiresome body that just wants to stick to the bed all the time! How did I even want to get into this again, so quickly! Nevertheless, all worth it for a girl this time – I said to myself. Time just passed fantasizing about princesses, fairies, dolls, tea parties; my entire town painted completely in pink!
The d-day arrived.I vowed to keep the gender of my second baby a surprise, but couldn't resist the temptation any longer! I was betting big time with my family members that it was for sure, a girl baby. My palms sweated as the ultrasound specialist arrived. Friends and family overseas eagerly stayed awake waiting for the news. They all wanted a girl to have the so called 'complete' family! As the doctor announced the gender of the baby tears rolled down my cheeks. I cried louder inside but more silently outside.It was a boy, again ! My heart sank. It took weeks for truth to sink in. No more colorful wardrobe,no more make-up, no more matching jewelry, no more Bharatnatyam (a South Indian dance art form) , no more gold purchase (big thing in Indian families you know! ), no more chances of teaching someone the family's traditional cooking, no more daddy's little girl! I bled. Much to my bewilderment, my mom immediately pacified – "Don't worry, you just entered your 30s!!", as though raising another kid sounded any easier!
Growing up with all female cousins in my family, I hardly knew anything about a boy's world. And now to raise not one but two, I did not know what was in store for me! The reality was quite a shocker. A constant messy house (recall the saying that it's a museum n not a home if not! ). Never tiring infinite bundle of energy, literally infinite. Little spider-man and superman flying between tables and chairs. Need a family photo with the boy in your arms? Forget it (unless you can make a deal with an Oreo in hand) . No, No and No, the most nonchalant reply ever heard.Band-aid, the most sought out thing next to tooth brush. Cars, trucks and engines, the new found sleep companions. The tools in the kitchen and garage – spanner, food processor, screw driver etc igniting the curious George within. And the list is endless!!
It suddenly struck me that the childhood I know of, the world of calmness, gentleness, quietness and softness was no longer a reality. The more I wished for it, the more distant it became – a dream within a dream within a dream.As years passed, I slowly realized, it's a boy's thing. Probably I will never understand until I embrace their world. Probably I should slow down and look from my little man's perspective.Probably it is fun jumping and singing aloud. Probably it is fun coloring the walls.Probably it is fun making pastries over the weekend together (as long as it involves egg beater!). Probably happiness is playing wii and angry birds.I slowly stopped being a perfectionist that wanted a spic n span house all the time; I slowly stopped asking for whispers and less noise all the time.I slowly stopped transforming them to fit into my world. I changed and trust me,with a little discipline they changed a wee bit for me too!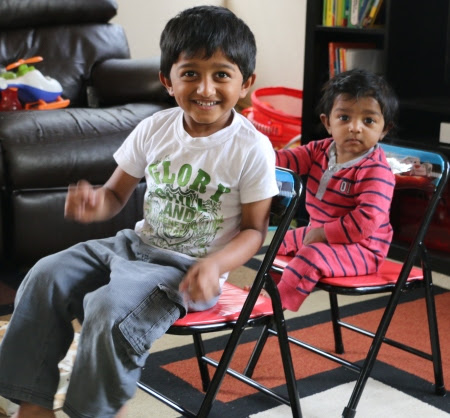 And how was our new life ? FUN. Pure FUN. Raising boys was fun after all! Wouldn't trade them for the world! Thinking back now, I feel totally guilty for crying during the ultrasound visits. It was a beautiful healthy baby each time, but a BOY, so what?! People pissed me off saying 'A daughter is a daughter for life, but a son is a son until he takes a wife'.May be true or may be not. My selfish mind just wants to believe that it is not true! But I see the men around me and I admit – I do see a difference.Sigh! Somehow men do not show affection the same way as women do, but does that mean their affection is any lesser? In this age where girls and boys are equally away from parents for studies or work, does it really matter for a parent to raise a boy or a girl? Does it really matter having that so called 'perfect complete family'?
Time will answer all these questions for me! For now, I'm just gonna cherish my little boys cos I'm pretty sure that at some point in my life I would want to do this all over again – to cuddle, to jump, to be noisy, to pretend n play, to be their go-to savior kit all the time, to be the mama for the lovely little brats! All I pray for is that they grow up to be good Samaritans taking charge of their own destinies.The life of a parent always revolve around that of their children, come what may.
But deep down, I still wish I remain the queen even after they find their princesses! How selfish! But come on, which mom does not want to! I wish that day never dawns when they start to think hugging and kissing is never a big boy's thing, when my kisses don't heal their wounds anymore, when they stop being sad when I am sad, when they stop driving me nuts, when they would stop wanting me more n more!
As fate would want it, all these are bound to happen and is ironically termed as developmental milestones for their own self sustenance! Time and experience would give every mom the maturity to let go if needed and enjoy from far the most dearest thing to their heart – their children. But till then daughter or son, enjoy while the childhood lasts! Time just flies and in a wink, they will be out of the cage into the wild!"
About the author:
Geetha is an NRI residing in the United States; she is a mom of two lovely boys. You can read more of her writing @