By Ianna,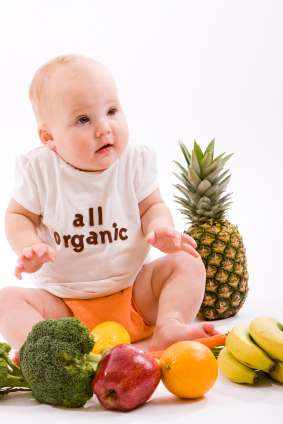 Even though breastmilk can do your baby wonders, including being a medicine for headache and fever, he or she isn't supposed to take it for a prolonged period of time. After all, a growing child has changing needs, and that includes his or her diet. From being breastfed, your child will transition to solid food, as your milk, despite being considered as complete food, will no longer be enough to satiate his or her nutritional needs.
Before Feeding Time
But don't give your baby a spoonful just yet. First of all, you need to read these important guidelines.
For baby's first food, it has to consist of a single ingredient, although it's perfectly fine to mix it with either water or breastmilk. And since your baby doesn't have teeth and a well-developed digestive tract yet, make sure it's soft.
The first meal doesn't have to completely be made of or include rice or cereal.
Now that that's been laid out, to help you and your baby in this important mealtime milestone, here are a few recommended recipes for your child's first-ever solid food.
Banana
An all-time favorite fruit by children of all ages and a popular flavor of premade baby food, banana is cheap, sweet, delicious, and easy to like, making it a good candidate for a first meal. It'ds nutritious too, as it is rich in vitamins A and C, folate, potassium, phosphorus, selenium, magnesium, and calcium. And contrary to the usual myth, giving your child banana as a first meal will not ruin his or her diet or make him or her hooked to sweet food.
Before serving it to your baby, mash the banana using a fork if it's soft enough, or use a food processor if it's still a bit hard despite being mashed.
Avocado
Although not as popular as the banana as a staple food, the avocado is just as renowned as baby food. That shouldn't come as a surprise, for avocados are smooth, creamy, easy to digest, and rich in essential vitamins, nutrients, minerals, and fats.
It's very easy to prepare avocado as baby food: all you need is to cut the pulp out of the fruit and mash it. You don't have to use a food processor, as the avocado already has a soft texture and consistency.
Apple
Because of its sweet taste, juiciness, and crunchiness, a lot of people have fallen head over heels for the apple. Kids and adults usually eat the produce as it is, include it in a salad, or turn in to a smoothie. Babies, however, cannot take a bite out of the fruit.
The only way for them to taste an apple is by having it mashed or turned into applesauce. You can do this by peeling, coring, and cutting the apple into chunks. Afterwards, place the chunks in a pan and add enough water to cover them. Boil or steam the chunks until they become tender, then you may choose to mash the chnks with a potato masher to give it a puree-like consistency.
Pears
When it comes to juiciness, crunchiness, and water content, the pear is similar to the apple. However, the pear is subtly sweeter, making it more likeable by babies.
And just like the apple, the pear is also hard. That means it has to be prepared first – peeled, cut into chunks, steamed until tender, and then pureed in a food processor – before it can be served to your child.
Sweet Potato
This delectable root crop is a cheap yet nutritious and important food item that also serves as good baby food. However, in order to make it edible for your child, the preparation can be quite tedious.
First, poke holes on the sweet potato using a fork, wrap it in tin foil, bake it in a 400-degree oven until soft, and then have it pureed.
It's only right to give only the best for your baby. And there will come a time when the best food for your baby is no longer your milk. Don't worry about that, though; with these recipes, you'll definitely be ready.
Author Bio:
Ianna Reign Stevenson is a professional writer based in London, England. She is a young mother of a 3 year old toddler and a working mom. Connect with her on Twitter.